Rainbow Peace Sign Tie Dye Tapestry (36" X 36")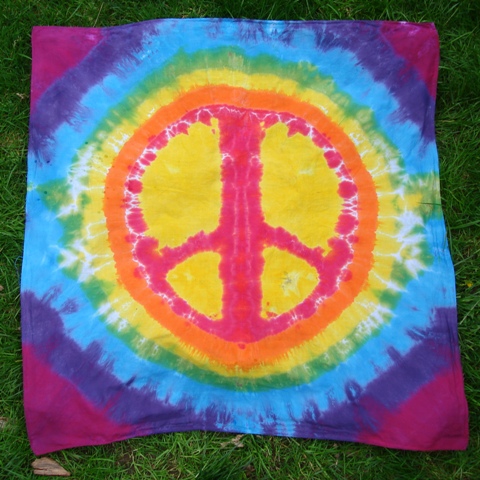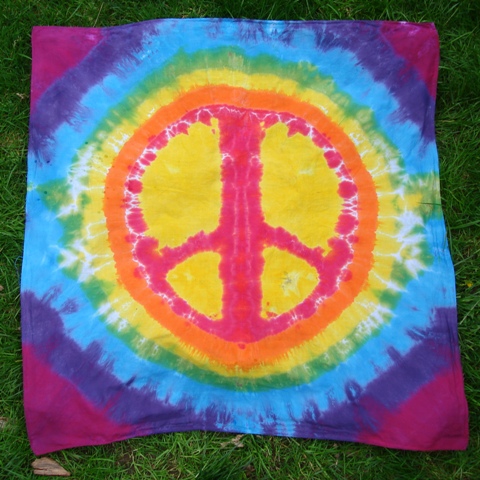 Rainbow Peace Sign Tie Dye Tapestry (36" X 36")
Made By Hippies Tie Dyes are 100% cotton, colorfast and preshrunk. For a looser fit order one size larger.
Here is one of our favorite tie dye patterns, so we decided to make a big batch of them. You will receive a tie dye similar to the one in the photo and it may have some small differences in pattern and color.
Everything we sell is handmade by Erik and Amanda (The Hippies) in our Sandy, Oregon home using renewable energy. We use Procion Dyes for our tie dyes which means all Made By Hippies Tie Dyes are colorfast and can be washed with the regular laundry and stay bright and colorful for the entire life of the tie dye t-shirt.
Made By Hippies Tie dyes are safe to wash and dry with your regular laundry.
We wash all our tie dyes three times with hot water and super strength detergent during the Tie Dye process so you can wash them with your other clothes and they won't bleed dye - Guaranteed!!
Made By Hippies Tie Dyes offers Easy Size Exchanges, simply mail us back the shirt with a note saying you would like a different size. We also have a Thirty Day Money Back Guarantee, simply mail us back your new tie dye t-shirt within 30 days for a full refund.